4 Butterfly Ayurveda teas you must try in the changing season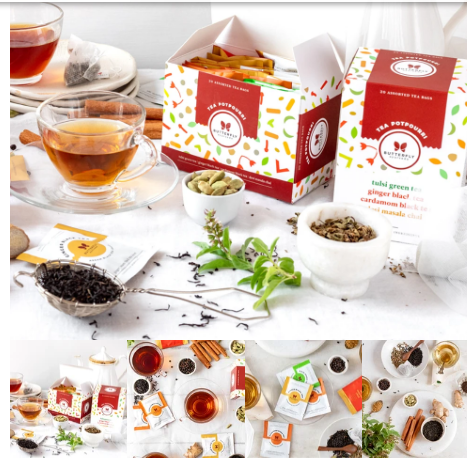 Summer is almost here, meaning that we are already experiencing the seasonal transition. This particular time of the year calls for extra caution as bacterial and viral infections make many individuals ill. That said, focusing on your immunity is essential to keep seasonal diseases at bay. With that thought, here is a list of 4 Butterfly Ayurveda's herbal teas you should stock up now. Read on!
Crafted from high-quality Assam Black tea leaves and ginger, the Ginger Black Tea is rich in antioxidants and makes the perfect digestive tea. Ginger has several health benefits which can be directly consumed in a cup of this herbal tea. Try it with milk and sugar for enhanced flavour. The ginger black tea bags help pacify Vata & Kapha doshas, making it a perfect pick in the cold months.
The kadak doodh wali chai that Indians crave in the cold seasons and when feeling under the weather is Desi Masala Chai. It is a blend of hand-picked herbs and Assam black tea leaves. Such black tea bags leave a refreshing taste in the mouth while improving immunity naturally.
Tulsi Green tea helps detoxify the body and induce relaxation. This herbal tea not only improves immunity and alleviates cold and flu symptoms, but it also helps keep respiratory and digestive health in good shape. This tea is also Vata & Kapha pacifying as it activates the antioxidant activity in the body.
Freshen up your mouth and senses with Cardamom black tea. Enriched with the goodness of antioxidants, this herbal tea helps regulate blood pressure, sugar and cholesterol levels in the body. Such a Triodosha balancing ayurvedic tea also helps improve digestion.
Butterfly Ayurveda, founded and run by Akshi Khandelwal, has a thriving R&D team that aims to create products that help people live healthier lives. Such ayurvedic products have been created after thorough research. Visit the company website to learn more about such herbal teas.